Power Washing Wall Township NJ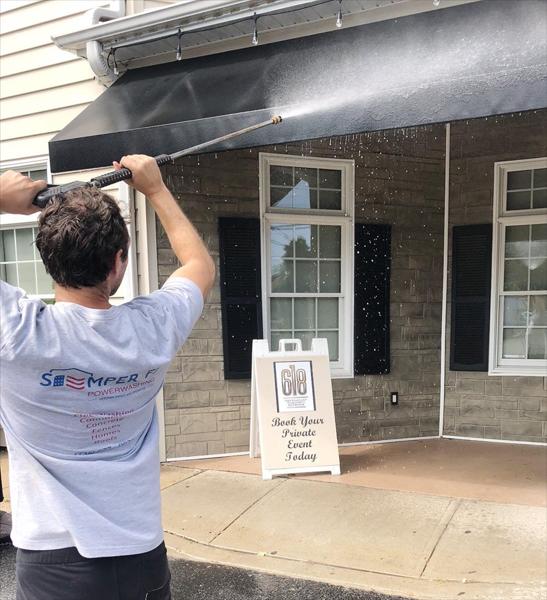 Whether it's maintaining a clean-cut exterior on a residential property or cleaning up a large commercial building, property maintenance requires skill. The most effective way to clean your property's exterior is by pressure cleaning it but doing so in the wrong way could spell disaster for your exterior property aesthetic. To ensure you get the best results, you need to contact a professional power washing Wall Township service provider who can assist you. At Semper Fi Powerwashing, our pressure washing specialists have over 12 years of experience in the industry. Our extensive knowledge and dedication for customers satisfaction enables us to handle virtually any power washing need that you may have.
Roofs are the most important yet most vulnerable structure of any home or property. Over time, harmful substances like bacteria, algae, and mold can begin eating away at your roofing materials. When this happens, your roof's structural integrity and stability are put in jeopardy calling for immediate action. Our roof cleaning Wall Township services are carried out using a powerful technique known as soft washing.
Top Rated Wall Township Pressure Washing, Roof Cleaning, House Washing and Fleet Washing Pros
Soft washing combines the use of low pressure and potent eco-friendly cleaning solutions to deliver safe and effective restoration. Another area affected by similar factors is your house siding, over time dirt accumulation can ruin the appearance of your siding materials leaving your home looking unkempt. With our house washing Wall Township services, you will receive a comprehensive exterior cleaning of your house siding materials that will leave your home sparkling.
We are the Fleet Washing Wall township and Pressure Washing Professionals
Our house washing services are also carried out using the soft wash method to ensure visible yet safe results. Hard-surfaced areas around your property like driveways and sidewalks are susceptible to dirt, oil, and grime buildup. Using our specialized pressure washing Wall Township techniques, we can completely restore the look of your hard-surfaced exterior finishing materials. To ensure effective yet safe results, we use eco-friendly cleaning solutions that target dirt at the core. Aside from restoring the look of your, our power washing Wall Township services also aid in prolonging their lifespan which saves you money in the long run. For business owners, maintaining a pristine commercial building plays a critical role in establishing trust with your customers.
Regardless of how large or small your commercial property is, our commercial power washing specialists can deliver lasting results. We cleanse various areas including parking lots, walkways, dumpster pads, awnings, and more to ensure your business is clean from top to bottom. Once our commercial pressure washing specialists are done cleaning your property, your business will look amazing.
If you own a company fleet, we understand how hard it can be trying to keep up with the required maintenance for all of your vehicles. That's why we offer fleet washing Wall Township services designed to remove oil, grime, and dirt buildup from your fleet vehicles. Washing your fleet vehicles on a regular basis ensures that your drivers always remain safe in addition to helping maintain a uniform company image.
Call Today for Commercial Power Washing Wall Township
If you're a commercial or residential property owner located in Wall Township, NJ and are interested in our services, visit our website and fill out the contact form to receive a free quote. All of our services come backed by a 100% satisfaction guarantee so that you only pay for services you are happy with. Whether you are in need of our pressure cleaning Wall Township services, our professional truck wash Wall Township service, or you have been searching for "truck wash near me Wall Township", give us a call today for a fast and free quote. We look forward to bringing your property back to life with our exterior cleaning services!
Contact Semper Fi Powerwashing today so we can clean your property the right way!