Power Washing Monroe Township NJ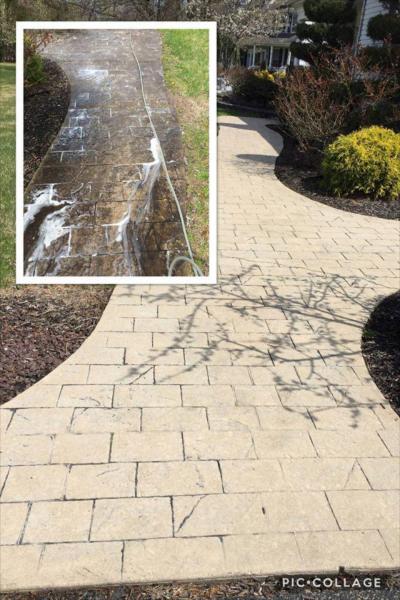 Monroe Township NJ is a beautiful and historic city. We at Semper Fi Powerwashing are on a mission to help keep it clean. If you want to keep your home or business looking pristine, check out Semper Fi Power Washing for the best power washing in Monroe Township NJ.
Whether you need your driveway and siding cleaned, or are searching for roof cleaning in Monroe Township, Semper Fi Powerwashing offers it all. Our driveway cleaning can remove many types of contaminants from the surfaces of your property. If you need your driveway to look like new, we can do just that.
Top-Rated Monroe Township Power Washing and House Washing
We also offer house washing in Monroe Township. Mold, dirt, rust, and other blemishes look bad on your home and can even wear it down. We can take care of the common mold and mildew problems that occur on Monroe homes. Our professional teams will make sure your home looks new once again.
If you want your decks and fences cleaned, we provide that service as well to make sure your entire home sparkles. We can work with you if you're looking to paint after the power wash or if you just need the wood cleaned of mold and mildew. No matter the project, our team offers affordable cleaning services for the exterior of your home, so it looks great and stays in shape.
Searching for Monroe Township Truck Wash Companies Near Me?
We don't just clean homes, either. We offer fleet washing in Monroe township as well as other commercial cleaning services. From residential driveways to apartment buildings, our professional cleaning teams are here to get the job done.
If you're wondering, "where can I find Monroe Township truck Wash companies near me?" look no further than our services. Semper Fi Powerwashing's fleet truck washing will blow you away. We understand how important it is to have a clean, professional-looking fleet. Our truck wash in Monroe Township is sure to meet your fleet cleaning needs.
We are the Fleet Washing and Truck Wash Monroe Township Professionals!
Our experienced team can remove the toughest of road dirt. We know that there are so many types of grimes and greases that make fleet trucks appear dirty and worn. Our fleet truck washing in Monroe Township allows you to make great first impressions with a pristine fleet so your business doesn't suffer.
Semper Fi Powerwashing also offers commercial power washing in Monroe Township. We offer a multitude of different services to keep your business clean. From gutter cleaning, pressure washing, cleaning recreational areas, and more, Semper Fi Powerwashing has your back.
Call Today for Commercial Power Washing and Roof Cleaning in Monroe Township
We even offer emergency graffiti removal to make sure your business always looks sharp. Semper Fi Powerwashing can take your Commercial cleaning needs on with ease to better your business and keep Monroe Township NJ beautiful.
Monroe Township has so many wonderful residences, restaurants, shops, recreational facilities, and workplaces. Semper Fi Powerwashing is here to keep Monroe clean and help your business thrive! We use proper cleaning and sanitizing techniques with ecologically friendly cleaning solutions to protect your safety. Contact us today for a free quote!