Power Washing Old Bridge NJ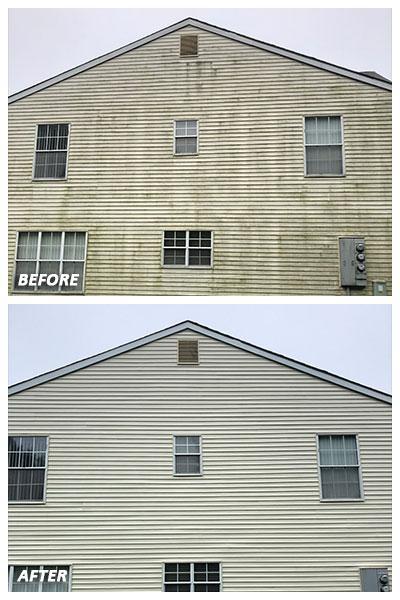 When you need an experienced, and qualified company to ensure that your home, business, or trucks receive the best treatment and a high level of cleanliness, think of Semper Fi Powerwashing. We have experts that approach every service you might need with high dedication, experience, and skill. We use the best quality equipment (I.e. power washer) to ensure that your home, business, or trucks receive the best treatment and perfection that exceeds your expectations. In Old Bridge, NJ, we focus on improving storefronts, restaurants, and commercial properties so that you can maintain a perfect appearance for your customers all year long. We also provide top-rated truck wash services in Old Bridge to ensure your entire fleet looks the best it can.
Top-Rated Power Washing and House Washing in Old Bridge
Our company was established on the values of teamwork, integrity, and reliability. We strive to deliver high-quality power washing service with superior customer care. We understand the importance of house washing and roof washing in Old Bridge, NJ. That is why Semper Fi Powerwashing is committed to offering specialized power washing solutions that save you time and money on the long list of exterior cleaning projects around your home.
You might have been in need of a "truck wash near me", look no further, we are available in Old Bridge NJ. Our services include power washing, roof cleaning, commercial power washing, house washing, fleet washing, and also truck washing in Old Bridge.
Searching for Old Bridge Truck Wash Companies Near Me?
You may also be thinking that the dirt and debris build-up on your siding and roof is a harmless eyesore, but when you take a closer look, you will see some black streaking and dark green staining. That is evidence of algae, moss and lichen that thrive in the weather conditions in Old Bridge, NJ. Did you know that most of the time, roofing failure is a result of untreated organic material growth like this? These organic materials affect the appearance, home value, integrity, health of the occupants, and damage to other structures. House washing and roof washing in Old Bridge NJ is one of the easiest ways you can protect your investment, and the added benefit is that it keeps your home looking beautiful year-round.
We are the Fleet Washing and Truck Wash Old Bridge Professionals!
When you are looking for house power washing companies, it is important to know what you are looking for. There are traditional power washing companies that utilize outdated power washing and pressure washing techniques that can actually cause more harm than good. Semper Fi Powerwashing specializes in advanced house soft washing and soft roof washing, allowing our power washing experts to deliver cleaning services that are as safe as they are effective. You can be assured that our service is designed to treat every surface of your property with the appropriate amount of pressure and the care it deserves.
Call Today for Commercial Power Washing and Roof Cleaning in Old Bridge
If you are ready to enjoy a clean, safe, and healthy environment, and to have more time to enjoy your home, then call Semper Fi Powerwashing today. We look forward to helping you find exterior cleaning solutions that fit your needs and your budget! We are your Old Bridge, NJ power washing experts!