Power Washing Colts Neck NJ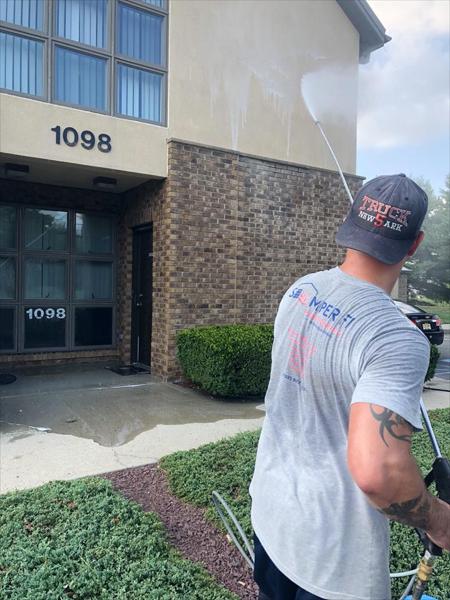 Keeping your home's exterior finish well-kept and groomed consistently is something that not all homeowners have the time to do. However, routine property maintenance encompasses several different elements which must be handled by a professional to ensure lasting results. The best way to do this is by hiring an experienced pressure cleaning service provider in your area to get the job done right. At Semper Fi Powerwashing, our team has over 12 years of total experience in the power washing industry. We equip all of our pressure cleaning technicians with industry-leading tools and equipment to ensure premium results on a consistent basis.
One of the most important yet vulnerable components of any property is the roofing structure. Without a stable roof over your head, the safety and comfort of your home can never be secured. Our roof cleaning Colts Neck services utilize a powerful combination of low-pressure and eco-friendly cleaning solutions. This dual-action cleaning process known as soft washing allows us to effectively target and remove set-in dirt from the surface of your roof, without damaging the material underneath.
Top Rated Colts Neck Power Washing
Your house siding is another key structure that is consistently exposed to external variables such as UV rays, adverse weather conditions, dirt buildup, and more. Over time, all these deposits will degrade the appearance and integrity of your house siding causing it to look worn. Using the same soft washing process, our house washing Colts Neck services can remove years of grime accumulation from your house siding with ease.
Hard exterior surfaces such as stone, concrete, and brick require more power to remove the dirt steeped in their material. That's why our pressure washing Colts Neck services utilize high-pressure and potent non-toxic cleaners that blast dirt away at the core. Our power washing Colts Neck service are compatible with various materials including fencing and decks. For business owners that are tired of dealing with property vandals, graffiti, and trash buildup, we have the perfect solution for you. Our commercial power washing services are designed to comprehensively remove harmful substances from various surfaces. There are no areas that our commercial pressure washing specialists can't clean, that includes: walkways, driveways, parking lots, dumpsters, and more.
We are the Fleet Washing Colts Neck and Pressure Washing Professionals
If you own a company fleet, it can be hassling trying to keep up with routine vehicle maintenance. It's important to keep your fleet vehicles clean both for the safety of your employees and the sake of your company image. So if you have been searching for truck wash companies near me Colts Neck, then look no further. Our fleet washing Colts Neck services are designed to deliver comprehensive cleanings that remove all sorts of oil, grime, and dirt from all areas of your vehicles. Good truck wash near me Colts Neck can be hard to find, but we want to end your search today!
Call Today for Commercial Power Washing Colts Neck
For those residential and commercial property owners in the Colts Neck, NJ area interested in our services, visit our website and fill out the contact form to receive a free quote. We provide a 100% satisfaction guarantee on all of our services, so you're always covered in the event of any accidents.
Contact our team at Semper Fi Powerwashing today so we can help you!