Power Washing Englishtown NJ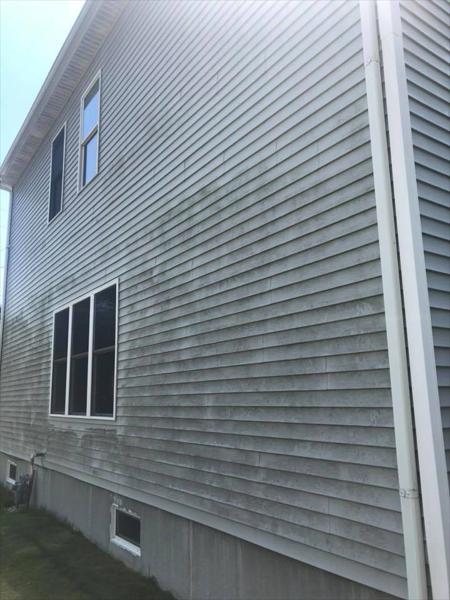 When it comes to your home's exterior finish, the saying "you only get one chance to make a first impression" couldn't be truer. Since your property's exterior finfish is constantly exposed to corrosive elements such as UV rays, dirt accumulation, weather damage, and more, it's susceptible to aesthetic decline at a rapid rate. The best way to ensure that your property's exterior is cleaned correctly is by contacting a professional pressure cleaning service provider. At Semper Fi Powerwashing, our power washing technicians have over 12 years of experience in the pressure washing industry. We equip all of our team members with cutting-edge tools and equipment, this allows us to deliver long-lasting service results on a consistent basis.
Roofs are constantly exposed to corrosive elements such as overexposure to UV rays, adverse weather conditions, dirt buildup, and more. Over time, these factors begin to degrade the structural integrity and aesthetic quality of your roof, which can lead to the need for expensive repairs. Our roof cleaning Englishtown services are designed to directly target issues caused by the previously mentioned factors to restore and protect your roof's condition.
Top Rated Englishtown Power Washing
Your home's siding is also susceptible to the onset of rapid material damage due to constant exposure to harmful substances like bacteria, dirt, grime, and more. Our house washing Englishtown services utilize a powerful combination of eco-friendly cleaning solutions and low-pressure. This enables us to directly target set-in dirt trapped in the surface of your siding material without damaging it during the process.
This process is known as soft washing and it's the same cleansing technique we use to deliver our roof cleaning services. For harder surfaces around your home like concrete, stone, brick, and more, we offer premium power washing Englishtown services that can remove layers of grime with ease. Our potent cleaning solutions are formulated to break down oils, grime, mold, and more.
We are the Fleet Washing Englishtown and Pressure Washing Professionals
After we're finished applying our pressure washing Englishtown process, your hard-exterior surfaces will be completely restored to their original condition. As a business owner, cutting down on the amount of graffiti and vandalism to your property can be challenging. Our commercial power washing services are compatible with various surfaces and are highly effective at removing all sorts of substances.
We can also clean dumpsters, sidewalks, walkways, drive walks, awnings, and more. Using our commercial pressure washing services can help you maintain a pristine property that customers love to visit. Even if you have been searching for truck wash near me Englishtown, we have you covered. If you own a company fleet, it's likely a real headache cleaning all of the grime, oil, and dirt that collects on your vehicles. Our fleet washing Englishtown services are the solution you need, we thoroughly wash all important vehicle components to ensure that your fleet is safe and looks great. Good truck wash companies near me Englishtown can be hard to find, so we want to help end your search. Our truck wash Englishtown services are the best in the area!
Call Today for Commercial Power Washing Englishtown
If you own a commercial or residential property in the Englishtown, NJ area and are interested in our services, fill out the contact form on our website to receive a free quote. We provide a 100% satisfaction guarantee on all of our services, so you can rest easy knowing you're protected.
Contact Semper Fi Powerwashing today!