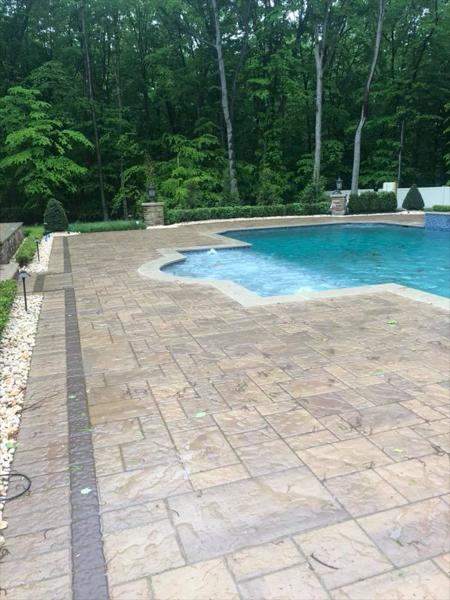 One of the most difficult areas for any property owner to clean is the exterior finishing materials of their building. There are several factors that can have a huge impact on the aesthetic quality of your property's exterior. Some of the most common are: exposure to harmful UV rays, dirt accumulation, and adverse weather conditions in your area. If you notice that your property's exterior finish is starting to decline in appearance, you need to contact a professional pressure cleaning company who can assist you. At Semper Fi Powerwashing, our team of highly trained pressure cleaning technicians have over 12 years of experience in the industry. We equip all of our power washing specialists with cutting-edge tools that allow them to deliver visible results on a consistent basis.
One of the most important elements of any property structure is the roof, harmful substances like mold, algae, and bacteria buildup can ruin its strength over time. Our roof cleaning Jackson are designed to effectively rid your roof of these harmful elements to restore its look and structural integrity. We use a specialized cleaning technique known as soft washing which allows us to directly target dirt, without damaging your roofing materials during the process.
Top Rated Jackson Power Washing
Similarly, your home's siding materials are also susceptible to the accumulation of degradative elements. We use the same eco-friendly soft washing technique to deliver powerful house washing Jackson services that will leave your home looking brand new. The areas around your property finished with hard-surfaced materials like concrete, stone, brick, etc. are also prone to absorbing oils, dust, mildew, and more.
Our power washing Jackson services are designed to target substances like these at their core. Once the cleaning process is complete, your home's hard exterior finishing materials will be completely restored to their original look and condition. There aren't any areas our pressure washing Jackson specialists we can't clean, including: patios, garages, driveways, and more.
We are the Fleet Washing Jackson and Pressure Washing Professionals
Business owners have a lot of stress on their plate already, property maintenance shouldn't be another concern. That's why we offer premium commercial power washing services designed to address issues such as graffiti, vandalism, trash buildup, and more. Our commercial pressure washing technicians can sanitize dumpster pads, awnings, parking lots, entryways, and much more. We even offer truck washing services, so if you are searching for a truck wash near me Jackson, then you should call Semper Fi Powerwashing!
Searching for Truck Wash Companies Near Me Jackson?
If you own a company fleet, it's important to keep your vehicles clean to ensure the safety of your employees and a good representation of your company image. So if you have been searching for truck wash companies near me Jackson, then you have come to the right place. Our fleet truck washing Jackson services are designed to directly target substances such as oil, grime, and dirt on all the important components of your vehicle. The end result is a shiny fleet of vehicles that your drivers can be confident in. Our truck wash Jackson services can get your fleet trucks looking like new again. Good truck wash Jackson can be hard to find, so stop searching for truck wash near me Jackson and call us today!
Call Today for Commercial Power Washing and Truck Wash Jackson Services!
For those commercial and residential property owners located in Jackson, NJ, visit our website and fill out the contact form to receive a free service quote. All of our services come backed by a 100% satisfaction guarantee so that you are always protected.
Contact Semper Fi Powerwashing today so we can help you maintain a pristine property!